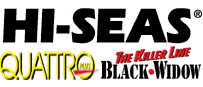 Hi-Seas - A Commitment to Quality and Value
(from Jersey Coast Anglers Association March 2003 Newsletter)
For over twenty years Hi-Seas® has been committed to providing anglers with superior quality fishing equipment at affordable prices. Their product line has grown steadily as technology has provided new materials and advanced manufacturing processes that allow them to offer superior products that are a real value. Today, that commitment is at the core of all Hi-Seas products, which provide a level of performance that the most demanding angler will appreciate at prices everyone can afford.
Fishing line remains the critical link between angler and fish. There is a wide array of choices and manufacturers frequently make claims that stretch the truth in promotional materials and advertising. "The toughest, the strongest, the most invisible!" Cut through the hype by looking for fishing lines with the Hi-Seas® logo on the label and know you are getting technically superior products that out perform the competition!
Tired of the "strongest line" game? You know—"our 20-pound test is stronger than their 20-pound test!" Then step up to Black Widow™, the most technically advance, super-thin diameter, true breaking strength line on the market today. Its copolymer formulation provides the perfect blend of suppleness and abrasion resistance with Hi-Seas® unique multi-color camouflage process that makes it virtually invisible under water. Black Widow™ is not only a superior product, it's the best value in an IGFA rated tournament line on the market today. Don't believe us. Look at the yardage on the packaging and compare for yourself. Regardless of the price you'll catch more fish because it provides superior performance on the water.
Looking for a line that fish simply don't see, but you don't want to mortgage the house to buy fluorocarbon? Look no further than Quattro Plus™, ultra camo line and leader material. There are two ways to achieve reduced visibility underwater. Fluorocarbon attempts to mimic the refractive quality of water, but it makes lousy fishing line. Long before fluorocarbon came on the scene Hi-Seas® developed a manufacturing process that extrudes high-quality monofilament line in short segments of specially selected colors that do for line the visual patterns and disappears into the background. Best of all, Quattro Plus™ is a superior quality line—easy to work, casts like a dream, excellent knot and impact strength, low memory and incredibly abrasion resistant. It's simply the best value in a premium line on the market today!
Fishermen looking for the best in stainless steel tools will find them in the Ichiban series from Hi-Seas®. In Japanese, Ichiban means "Number One" and these tools are well named. The line includes hand-crimping tools, fishing pliers and mono cutters that will stand up to saltwater and provide excellent service under the most severe conditions. Comfort-designed handles provide a slip-resistant grip even when your hands are wet or slimy from rigging baits or handling fish.
Top lure and rig manufacturers, and dealers who specialize in serving offshore fishermen, use the best rigging products—Hi-Seas! You should too. Our extensive line of chafing gear, crimps, swages, beads and professional quality tools, including precision hand and bench swagers, provide them with the cutting edge in quality and performance. Combined with Hi-Seas® Quattro Plus or Platinum Premium leader materials you can rig baits and lures like the pros in your own basement or in the cockpit. Hi-Seas® System-Matched Rigging Products makes it easy with leader diameters clearly listed on all packaging to make selecting crimps and swages simple. A Rigging Guide will be available shortly so you can be sure you use the correct tool and connector for each step of the rigging process.
Hi-Seas® stands on a legacy of quality and innovation and a reputation for providing anglers with the very finest products to make their fishing experience more rewarding and affordable. Look for Hi-Seas® products at your local tackle dealer or in fine tackle catalogs from coast to coast and judge for yourself.
.